Facing the challenge to center the object to take an image?
Let me take a wild guess; you have already get your feet wet in Focal photography or digiscoping. In fact, you are not alone; we all have been there and wondering how to mount a camera on a spotting scope.
Guess what; I have a better solution for you!
The solution is using a spotting scope camera adapter. Yes, simple as that! Only you have to know some basic on identification and digiscoping.
Keep reading, and you will find out some simple tricks on taking pictures through a spotting scope like a pro.
What Is Digiscoping?
The word "digiscoping" was introduced in 1999 by renowned French birdwatcher Alain Fossé. However, Less popular neologisms for these terms are digiscoping birding, digiscope birding, digibinning, digi-birding, and phonescoping.
Astonishing, isn't it?
The word "digiscoping" comes from the combination of a spotting scope and digital camera. Digiscoping has changed drastically the way we document as well as share the observations of birds. Spotting scopes are a way cheaper than powerful camera lenses.
A Beginner Session: How To Mount A Camera On A Spotting Scope
Hi buddy, mounting a camera to a spotting scope is not an aerospace technology. Once you understand the technique, you will be the master on it I am pretty sure.
Sounds impressive, right?
Let me show you 3 simple steps. What You Need:
A Spotting scope
A camera with an impressive lens
A tripod
An adapter
Step 1: Mount Camera To The Adapter
Before anything else, you have to mount the camera to the adapter. Now listen to me carefully, there is a quick release plate of the adapter.
Where will you find it?
Well, the backside of the adapter, you will find a removal plate which nicely attached to the camera. All you have to do is, adjust the level on the underside, which helps to release the plate.
What next?
Search the tripod threads which you may find in the underside. The next step is to the adapter you have removed earlier is going to screw into the bottom of the camera. Use a screwdriver or coin to screw that in.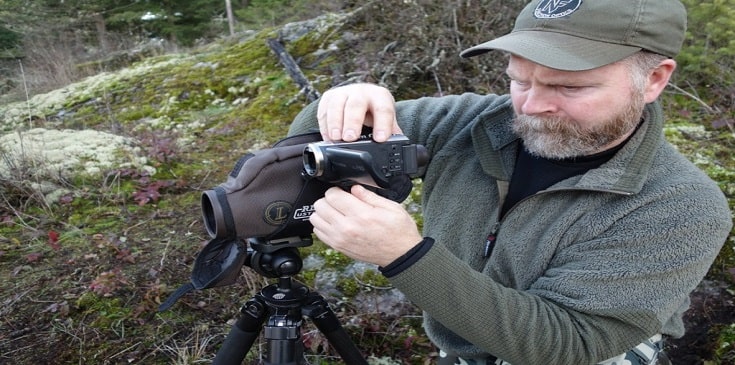 Step 2: Mount the adapter to the spotting scope
Take the adapter to your hand. Here you will see, the tube actually located over the eyepiece with a visible bracket which holds the camera up.
What next?
You have to loosen the knurled knob on adapter's left side. In the meantime, slide it over the scope eyepiece. It's just because you want to tighten it to your adapter to the telescope or spotting scope.
Step 3: Mount your camera to the adapter
In next step, mount your camera to that adapter and secure by tightening the green lever on its underside. We actually place it for adjustment, which allows you to lose the gear or even tighten it.
Sound's great?
Not only that, but you can also move it left to right or near to far from your scope's eyepiece. Now your camera is actually at the proper distance and has flexible axis from left to right. The best part is you can also adjust the height of the camera. All that setup we do is to center the camera on the right eyepiece to capture the photo.
Congratulation, you are done, it's ready to go!
Using A Smartphone Camera
As time has changed, we found some of the excellent smartphones that can beat photoshoot. So Manufacturers started to present smartphone camera adapters to us. It's obviously not top-notch photography, yet it is a very reasonable way of enjoying a lot of hobbies.
However, smartphone cameras can be pretty accurate, both in terms of color accuracy and image quality.
Can it be true?
Yes, High-end models like the Galaxy S8 (Samsung) or iPhone 8 offers stunning, amateur-grade photos as well as videos. Hence, it's the perfect option for the lightest travel kit.
The coolest part is:
Using a phone adapter you can observe, objects displayed with two eyes in a monocular scope. However, this will allow your eyes to rest, and witness all of the amazing events Mother Nature has to offer.
Recommended 3 spotting scope for digiscoping
1. Celestron 80mm ultima zoom spotting scope
An awesome all-around spotting scope that's portable and compact, with a decent 45-degree viewing angle.
2. Gosky smartphone digiscoping adapter
Take snapshots of the view and enjoy sharing them to your friends/ families via social media, text, email, and more with this cool gadget!
As the name suggests, this one is specially designed for cellphone and smartphone.
3. Landove spotting scope 20-60×80
A great gadget, especially for a target spotting scope, comes with a powerful zoom magnification.