Although spotting scopes and binoculars share similar properties, they tend to be used differently. If you are not a professional, it is somewhat common to think of them as two peas in a pod – since they are so alike.
To be honest, both tools can be used for the same purpose. Both of them are used to see in great detail, something that we naturally couldn't; objects at great distances! So as similar as they sound, there is a catch – they actually show their full potential when used under different circumstances.
In this article, we will focus mainly on how to use them properly while hunting and target shooting; but rest assured that you can use them for bird watching or simply hiking!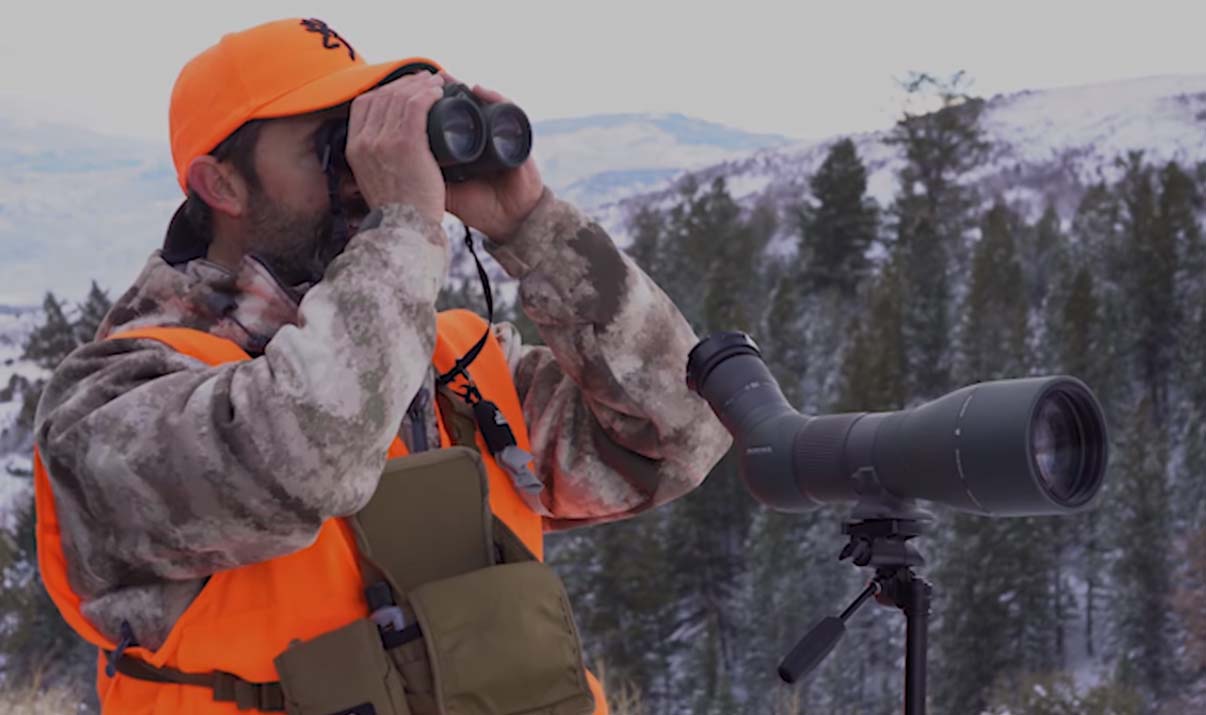 Binoculars
Let's start with a simple explanation – bi means 2. So as you probably know already, binoculars are consisted of two optics and are used with both eyes together. There is no rocket science behind this one, they have been the outdoorsman's companion for many years.
Of course, this means they are highly effective – in the end, we would have moved on to something else if it wasn't so. There is a vast market when it comes to these guys. Binoculars can vary in size and magnification, so your needs will certainly be met, whatever your preferences are.
Spotting Scopes
Unlike binoculars, spotting scopes use a single optic. These tools can traditionally be seen as one straight eyepiece, or an angled one. It's no secret that celestial photographers use them as well- so you can imagine just how powerful a spotting scope can be!
Spotting scopes can prove to be a great asset for any hunter. To get a better grounding and minimize the movement these, mini telescopes are usually used with some form of a tripod. If you are hunting from a greater distance, these handy tools are very convenient.
The Best Choice For Hunting
As previously mentioned, the main difference between these two tools lies in detail. It's not that easy to just pick one option, so let's cover your personal preferences. When it comes to spotting scope vs binoculars for hunting, if you are a ''still hunter'' spotting scope might be the best option for you.
To put it better, if your hunting technique requires you to stand still all day; it's easier to simply put your scope on a tripod while you wait. Compared to binoculars, spotting scope allows you to see animals that are further away. We should mention that this asset is also the reason why the usage of scopes requires more caution.
Without proper practice, spotting scopes can give an illusion that you can hit targets from further away than your gun allows you to. Using a scope with a high magnification requires proper training prior to your hunt. Be sure that you have practiced shooting over great distances and that you're fully aware of laws concerning responsible shooting.
On the other side, if you move a lot while hunting, binoculars may be the way to go. Carrying the extra weight while you are on the move can be a drag. Tripods and spotting scopes are more often than not, pretty heavy tools; and compared to that it's much easier to just hang binoculars around your neck.
Stabilizing the tripod can also make extra noise and scare away the animals. Sound is a factor you should always be aware of while hunting, and if you're planning to move around binoculars should be a better pick.
Another good thing about these tools is that they have a larger field of view. This means you can always fully scan the area you are in! Also, keep in mind that binoculars can maintain a clear image; compared to spotting scopes, with which you can't have the same control over when making rapid movements. Since they are generally easier to use, for most of hunters binoculars are a better choice overall.
The Best Choice For Target Shooting
Either as an exercise or simply fun, target shooting usually requires you to practice from a stationary position. The main goal of target shooting is being able to spot a target; which makes, as the name implies, spotting scopes the better candidate. In general, people usually use spotting scopes for target shooting, but of course, you can use binoculars as well.
However, keep in mind that as the distance from the target fathers, without the high-end binoculars you won't be able to see the target as clear as you would with a spotting scope. Using binoculars while target shooting usually requires you to buy a tripod as well, so if you are on a budget it may be more efficient for you to get a spotting scope of higher magnification.
The prices and combinations vary, so it mostly depends on your needs.
Whether you are using these tools for hunting, target shooting, or something else, there are some key factors you should always pay attention to. We already mentioned most of these, but for you to not miss anything, here's the list:
Magnification Power
Image Stability
Portability & Weight
Close Focus
Field of View
Objective Lens Sizes
Viewing Angle
Price
Final Words About Spotting Scope VS Binoculars
If you are wondering are spotting scopes better than binoculars, there are no single criteria to fill; when it comes to choosing the right tool for your needs. Binoculars may be better when you are on the move and require a quick look around.
They are lighter, make less noise and more portable. Spotting scopes are generally used if you need to remain still for a long period of time. When it comes to spotting scope vs binoculars for target shooting, we gave spotting scopes a running start, simply because they have the best magnification you can get.
However, in the end, everything falls back on what your needs and preferences are. Nobody can make a better pick for you- than you!
Sources:
https://opticsmag.com/spotting-scopes-vs-binoculars-use/
https://targetcrazy.com/optics/optics-resources/spotting-scopes-vs-binoculars/
https://www.bhphotovideo.com/explora/photography/tips-and-solutions/guide-birding-spotting-scopes