Spotting scope tripod is a crucial attachment required for stabilizing and mounting the scope. You may use the spotting scope without a tripod if it has a smaller magnification range. But you will never get a satisfactory view of the target. For the scope with a broad magnification range, the view from the spotting scope won't be sufficient and explicit unless you use a tripod.
You will notice significant changes in the quality of the view when you are using it without a tripod. A spotting scope tripod doesn't cost you a lot. They are available at a low price, and once you buy one, you can get a lifetime performance from it. Here are some of the main reasons for which you need to use a spotting scope.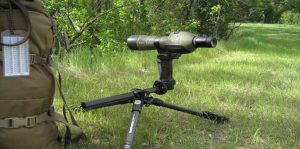 Why You Need Tripod For Spotting Scope
View Stabilization
The most significant benefit of a tripod is it accurately stabilizes the view prepared by the spotting scope. While holding a scope with your hand, you will not be able to get a clear sight of the target because of the movement of your hands. Also, a scope with a broader magnification range is quite large, and you can't hold it for a long time as eventually you will be affected by fatigue.
The tripod for spotting scope provides reliable support by keeping the scope in a steady position. It helps the scope to acquire even the smallest details of the view. You will get a smooth, clear, and sharp appearance of the target landscape by mounting the scope on a tripod.
Photography
The spotting scope makes it possible to get a real close view of a target. Some of the spotting scopes currently include support for connecting a camera or smartphone in the eyepiece. Such opportunities let the birder and other hobbyists capture amazing views through the scope.
The scope must be mounted on a tripod to capture a landscape through the scope using your camera. Otherwise, the captured image won't be clear and detailed. Who knows you may end up by capturing a rare extinct animal or bird with the spotting scope mounted on a tripod.
Vibration Minimization
Vibration is a big issue that causes unobstructed views from your spotting scope. Vibration can be caused by many factors such as the wind, weather, etc. along with your body movement. While a spotting scope is mounted in a quality tripod, it can stay steady and eliminate the vibration. Tripod for spotting scope hunting helps a lot the hunter to find out even the small prey precisely.
Spotting scope arrives with adjustable legs which allow you to change the tripod size depending on your position. You can even adjust them to view the target from a sitting or prone condition.
How To Choose A Tripod For Your Spotting Scope
It is essential to choose the right tripod for your spotting scope to get proper performance from it. As the spotting scope is becoming popular, there are numbers of spotting scope tripods available in the market. However, you must choose the suitable one which will suit with your spotting scope properly. There are certain things that you should check while purchasing a spotting scope tripod. Below, we will discuss them.
The tripod you are purchasing must provide precise stability to the scope. Avoid the cheap tripods as most of them are flimsy and can't deliver a strong base to the scope. Most of the tripod available in the market are designed for the small cameras typically. So, you check the weight lifting capability of the tripod before buying it.
If you are purchasing a tripod for birding or other regular viewing activities, you will need a tripod of your same height. Besides, for tactical purpose, you should go for a tripod which is equipped with adjustable legs. Such properties will allow you to use scope even when you are sitting or prone by adjusting the tripod legs.
The spotting scope should come with a sturdy construction as it will be roughly used outdoor in different weather conditions. Most of the scope available in the market mostly comes with either aluminum or carbon fiber construction. The aluminum tripods are lightweight and robust at the same time. Besides, the carbon fiber tripods are also durable, and they provide superior quality stability.
Some tripod offers you additional accessories such as carrying strap or spotting scope tripod backpack. These accessories will help you to maintain the tripod conveniently.
Now you know how vital a tripod is to bring out the real performance of your spotting scope. If you are capable of buying a $200 spotting scopes, then you should also be able to invest some more for a tripod. It's never too late to spend on an excellent tripod to enjoy the finest landscape views through your spotting scope.
Page Sources