Whether you're looking for a handy tool to enrich your hiking experience, or equipment piece to make your hunting easier- spotting scope is the way to go. To be honest, most of these tools are a bit pricey, so if you are looking for something cheaper- let's say under 200 dollars spotting scope, it can take a long time.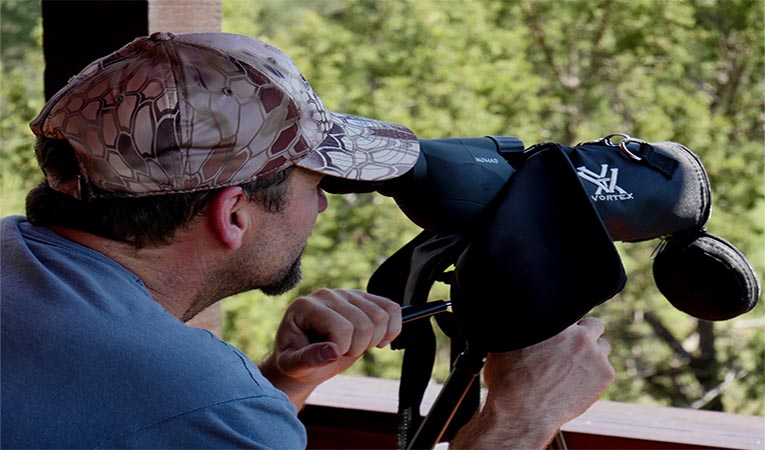 However, there is no need for you to spend endless hours ''hunting'' for your perfect fit; you can find the best compact spotting scope right here! In this article, we provided some of our top picks, as well as some useful information on choosing the right scope for you.
Best Compact Spotting Scope – At A Glance
1. Roxant Authentic Blackbird High Definition Spotting Scope with Zoom
2. Bushnell Trophy XLT 20-60x 65mm Waterproof Compact Tripod Spotting Scope with Hard and Soft Cases
3. Visionking 25-75×70 Maksutov Spotting Scope 100% Waterproof Bak4 with Tripod
4. GLASSHAWK HD SPOTTING SCOPE 20-60X80MM BY CREATIVEXP
5. BARSKA 20-60×60 Waterproof Straight Spotting Scope with Tripod
6. Celestron 52238 C70 Mini Mak Spotting Scope
Top 6 Best Compact Spotting Scopes Reviews
1. Roxant Authentic Blackbird High Definition Spotting Scope with Zoom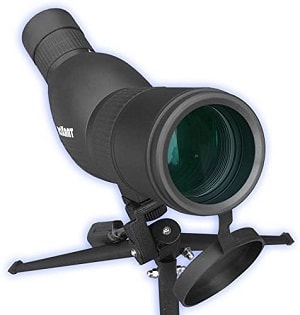 This is a product that offers you some of the top-notch features but at an affordable price. It has an outstanding zoom and comes with a 45 degree angled eyepiece– which allows you to experience nature to the fullest. One of the things that we really enjoyed is that this scope comes with a premium, easy to carry tripod- for maximum convenience. This product also comes with an extendable eyepiece, which makes it easy and comfortable for users with glasses to enjoy.  If you're a lover of Wildlife this might be the best compact spotting scope for you!
2. Bushnell Trophy XLT 20-60x 65mm Waterproof Compact Tripod Spotting Scope with Hard and Soft Cases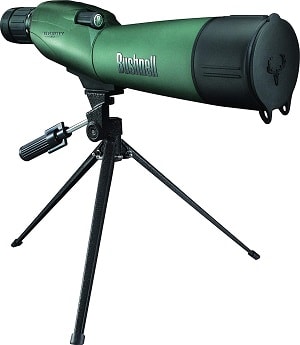 This is another great scope made from high quality materials; which are built to last. It is equipped with 20 to 60x magnification, as well as a 65mm objective lens. This feature enables the user to see as much detail as they need, without losing the clarity of the image.
The optics of this scope are fully multicoated and provide a beautiful viewing experience. Another great this about this product is that it's completely waterproof, and with the tripod included in the price; so you needn't bother with spending more money or limiting your hunting abilities.
3. Visionking 25-75×70 Maksutov Spotting Scope 100% Waterproof Bak4 with Tripod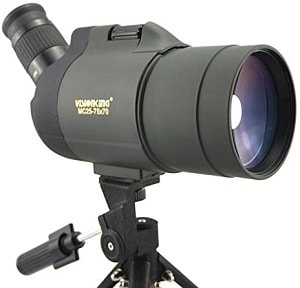 Visionking brings us a scope that is both compact and lightweight. With the 25x75x70 dimensions, this product definitely falls into a small scopes category. Fortunately, this doesn't mean that it's less professional; you'll have all the features included, just in a compact size!
What really separates this scope from the others is the fact that it is both fog and moisture-proof. Having a fuzzy and unclear target can impact your enjoyment greatly; and more importantly, it can be a safety hazard. However, with the best small spotting scope from Visionking, there is no room for worrying- so fire away!
4. GLASSHAWK HD SPOTTING SCOPE 20-60X80MM BY CREATIVEXP
If you're looking for a perfect gift, this might be it. Aside from the premium features, like 60x zoom, large and adjustable eye relief and crisp clear image- Glasshawk includes an amazing gift option. When deciding to invest in it, not only will you be getting one of the best compact spotting scope options on the market; but a tripod, protective case, cell phone adapter and a photo clicker too! If you thought this is a bargain, the manufacturer also includes a lifetime warranty- so you can always call their customer support and have any possible issue resolved in no time!
5. BARSKA 20-60×60 Waterproof Straight Spotting Scope with Tripod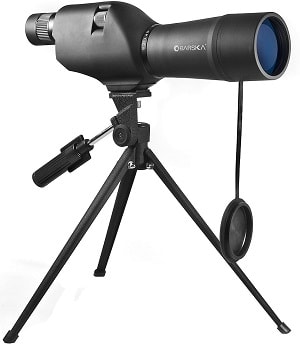 This spotting scope has both fully coated optics as well as BK7 prism glass. In case you're unfamiliar with this term, it was coined by Schott AG and it's used to designate a crow glass- borosilicate. Although it is said that BAK4 is a better choice, BK7 still proves to be an excellent choice; especially if you're looking for high reflective index or good dispersion rates. Compared to BAK4, it is cheaper to produce, so if you're looking for a more budget-friendly options BK7 is the way to go. However, if you want to avoid the short eye-relief, this scope might not be the best pick for you.
6. Celestron 52238 C70 Mini Mak Spotting Scope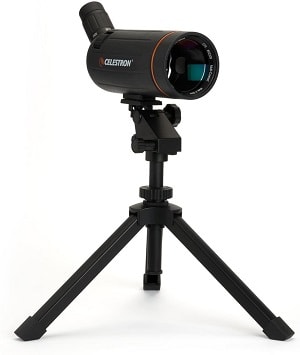 This is another great example of a small, but amazing spotting scope. If you're a hiker or backpacker with a passion for nature, this product can prove to be a perfect fit for you. Although compact and tiny, this scope has a magnification power that can reach approximately 500 yards.
It has an included eyepiece, but if you're not satisfied with it you can purchase an additional one easily- since it is compatible with all 1.25-inch eyepieces on the market! The only possible downside is that some users reported the image to be a bit dim; however, this is an overall great model.
How to Choose the Best Compact Spotting Scope
Since a spotting scope is just an extension that should cradle to your needs, you need to ask yourself first, what do you need it for. In case you are a lover of camping and nature, maybe you should look for the best backpacking spotting scope.
If you are a hunter, you should search for a more professional scope- with top-quality glass! You can find straight or angled scopes; or scopes with a detachable eyepiece- however, these features work best if you know exactly what will you be doing. Before making a purchase, you should be sure that you're looking for a spotting scope that fits your needs, not the other way around!
FAQ
What should you look for in a spotting scope?
When buying a spotting scope there are numerous factors to take into consideration. Generally speaking, one of the most important factors is the scope's light-generating power. Some of the main indicators for this are the diameter of the lens and the quality of the glass.
What do the numbers on the spotting scope mean?
You'll usually come across two numbers on a scope- for example, '15 x 50′.  The first of these two numbers is the magnification power, and the second one is the diameter of the lens (in millimeters). The magnification number of 15x means you'll be able to see a target that is 15m away from you.
Which is better – zoom or fixed eyepiece?
Some scopes are made with a built-in eyepiece, which is permanently attached. These eyepieces are usually non-changeable; however, there are scope models that have detachable eyepieces and allow the user to experiment with different lenses. If you decide to purchase a single power, or fixed scope keeps in mind that the higher magnification is not necessarily better.
As I mentioned, it all depends on the purpose of your scope- for example, for birding situations it's usually most effective to use an eyepiece of 30X. You also need to take climate into consideration; since heat shimmer can frequently block the view if you use higher magnification. Typical zoom magnifications usually ranger from 15-60X, while 30X magnification is the most common for a fixed eyepiece.
Why is glass quality important?
As you probably already know, the glass quality of a spotting scope is highly important; dark image, noise or lens dispersion can all be avoided by using a scope with high-quality glass. You can check the specifications manufacturer provided, to make sure you are purchasing a decent lens for the price.
One of the biggest differences between an ordinary and quality glass is that unlike the ordinary glass, the latter one lets more light pass through your eyepiece. It is made by using modern lens coatings which give you a brighter and clearer image.
Furthermore, high-quality lenses don't produce chromatic aberrations. This is often avoided by using ED glass or Extra-low Dispersion glass. However, not all manufacturers use the same terminology; you can come across terms such as APO, XD, or HD. If this is something that you are interested in, you can simply check which term does your preferred brand use- and the specifications that fall under given terminology.
Keep in mind that these ED/HD lenses are usually a bit pricey; although you can find them at a mid-range price, with manufacturers such as Leupold, Minox, Meopta, Celestron, Vixen or Nikon. If you have more money to spend, it is generally advised to get a spotting scope with a higher glass quality- since it will serve you well, and it is built to last.
Which one is better- straight or angled?
Usually spotting scopes come in two appearances-straight and angled. If you'll use your scope for nature watching it is generally advised to get the straight model, with a tall tripod. If you like to observe wildlife for a longer period, using a sturdy tripod will let you rest your arms. You can simply bring a chair and set your tripod to the eye level- for maximum comfort.
On the other hand, if you prefer to go birding with others, having an angled spotting scope might be a better choice. With it you can look down to around 45-degree angle, which makes it easier for sharing. If you're going as a group, set the height of the tripod to accommodate the shortest person; since the taller people can easily lean over.
Using an angled scope, isn't just an activity limited to groups. This eyepiece is also convenient in case you want to aim up at birds overhead. If you have a field, a park, or other open space areas near your home, from where you observe nature, this spotting scope is the best choice.
How to achieve maximum focus?
Spotting scopes have internal mechanisms made to sharpen the image. You usually activate them by turning the knob (or a ring, depending on the model) on the barrel of your scope. Some spotting scopes have two-step focusing. This feature allows you to quickly switch between close-up and the whole image using one knob; the second one is used for smaller adjustments such as fine-tune focus. This is a feature that not all of us enjoy- so it has no impact on the overall quality of the scope.
Whether you're looking for a hunting accessory or a tool for enhancing your wildlife observations, the close-up focus feature can certainly come in handy. An object doesn't need to be well out of your reach for you to use a spotting scope. Sometimes, like when hunting, this feature is beneficial for keeping you and people around you safe.
Furthermore, you can usually see the minimum focusing distance of the scope, since most manufacturers list them. It can be useful to measure the listed distance before purchasing a scope; or, if possible, to test the scope yourself.
What are lens caps and covers- do you need one?
If you'll be using your scope in harsh conditions, or if you generally live in a windy area, you might want to consider buying a canvas cover. There are several manufacturers that provide this feature, and it's generally not hard to come across them. However, if you want to be extra safe, you can also purchase a scope with covers specially designed to be left on it when in use. Usually, just the end of the covers opens up, leaving your scope fully protected.
Nowadays, almost all spotting scopes come with some protection, like lens caps. The rule of thumb here would be, the more solid they are-the the better. They allow the user to avoid scratching the glass of the scope; which can, unfortunately, happen very easily.
Although, this is something most of us remember and practice, there is one more thing to remember; where you put the cap. It can come in handy to always put the lens cap in the same location; once it becomes a muscle memory reflex, you'll never lose a lens cap again!
Do you need additional accessories for your scope?
Even if you are buying a scope on a limited budget, don't forget to include a tripod in your purchase. It can be useful to parallelly look at the pricing for both of these items- that way you can save your nerves and energy when calculating your scope-buying budget. Of course, to avoid future inconveniences, one of the first things you should check in a tripod is the height to which it can extend to.
It is also important to check if your scope can be moved in any direction, one it's mounted on a tripod. There are two main types of mount most professionals use. Ball-head mount, that is definitely more demanding, and a simpler, yet more used pan/tilt mount. If you are new to the scoping world, my advice would be to try out both of these options and see which one is more comfortable for you.
Needless to say, both the ball-head and the pan mount provide a system of locking your scope at a particular position. This is very practical, especially if you're hunting in a group. These locking options give you the ability to show an interesting scene that you've witnessed to your friends.
In most cases, disengaging the locking option is pretty simple and intuitive- it can be done with one hand movement, and you'll be free to swivel your spotting scope around again. This is super convenient option; especially if, for example, a deer you set your scope on abruptly jumps out of the picture. You don't need to unmount the whole scope, or even worse lift the whole tripod- just unlock your scope and reposition it.
Another important factor you should take into consideration is the weight of the tripod. Even if there is no listed weight of a tripod online, since different materials weight differently, it's not hard to estimate it. For example, metal, especially aluminum tripods are low weight and rigid. They make great fits for users who plan on carrying them over long distances, such as hikers or campers. Wooden tripods can be heavy, so I would recommend them for stationary use.
The next few factors are the same as in any other technical piece of equipment. The top-quality products usually come at higher pricing. However, there are great metal three-legged pods going from around $60; and if you are looking for something cheaper there are tilt or ball heads that cost from $40. If you're looking for something that you'll use over a decade you should definitely invest more money it, nu bear in mind to always consider how often, when, and how will you be using the spotting scope.
Final Verdict
Arguably, in the previous text, you might not find the best compact spotting scope review. As we already mentioned, spotting scopes can be quite a luxurious addition to your equipment; that a lot of people simply can't afford. However, in case you wanted to find the best compact spotting scopes on the market while staying on a budget, this article offers just that. Our reviews and were made with the intention to bring closer the best value-for-money scopes to people; and with that in mind, we hope you found exactly what you wanted!